Aebi Wins Oregon Governor's Tourism Award
DateFriday, March 18, 2022, 5:19
AuthorChemeketa Public Affairs
HTM instructor honored for years of work improving Oregon's tourism industry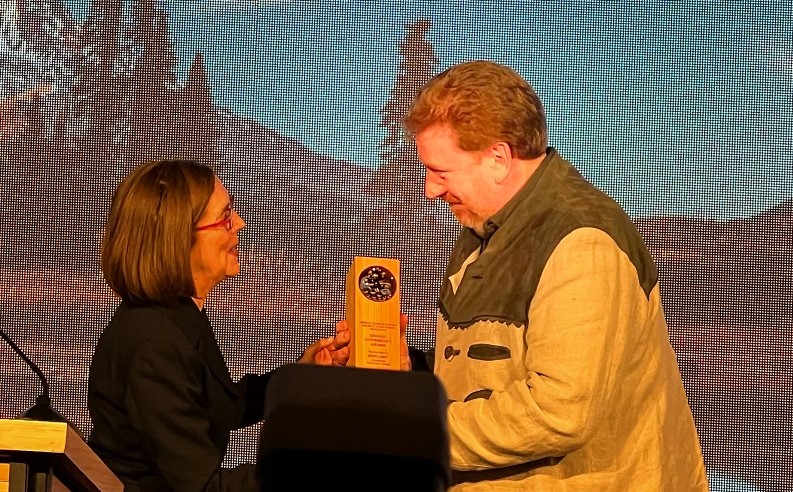 A Chemeketa Community College instructor was honored by Governor Kate Brown for his years of work benefitting Oregon's tourism industry.
Eric Aebi, program chair of the college's Hospitality & Tourism Management (HTM) program, received the Oregon Governor's Tourism Award, which was presented March 14 during the Oregon Governor's Conference on Tourism at the Sunriver Resort.
"The Governor's Tourism Award is a collective one in my case," Aebi said. "I stand on the shoulders of the giants that came before me, believed in me, mentored me, coached me and inspired me to 'be of service' to guests, co-workers, my community and ultimately, to Hospitality & Tourism Management students at Chemeketa and abroad."
In a press release from Travel Oregon, the state's tourism commissioner, the award "represents the culmination of our industry's deep appreciation for long-time commitment, accomplishment and service by an individual or individuals who have enhanced the Oregon visitor experience and elevated the travel and tourism industry."
Aebi started at Chemeketa in 2001 as an adjunct faculty and became full-time faculty in fall 2003.. Beyond the classroom, he volunteers his time with the Oregon Hospitality Foundation and other tourism industry organizations.
Chemeketa's HTM program is 100 percent online and offers an Associate of Applied Science degree along with numerous certificate programs that prepares students for careers in the travel, lodging, hospitality, event management and tourism industries. To learn more, visit go.chemeketa.edu/hospitality
All news